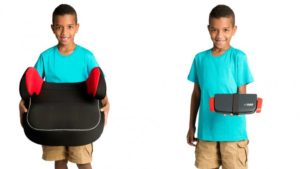 The revolutionary mifold car seat — 10 times smaller than a regular booster and just as safe – has secured a Series AA funding round of $1.5 million led by Sweet Capital, the new investment fund created by the founders of King Digital Entertainment. Altogether, child car safety company, Carfoldio, the maker of mifold, has raised over $3 million in funding from institutional and private investors.
"We loved mifold when we saw the crowdfunding video and reached out to [founder Jon Sumroy]. mifold is reinventing the child car safety category and disrupting the market. mifold is a genuinely innovative solution to a real problem that traditional players have ignored. Their worldwide sales are a strong proof of concept," said Christian Dorffer, CEO of Sweet Capital.
"I recognized the hassle that comes along with a regular booster seat when my children were in a carpool, getting picked up by their grandparents, on vacations or in taxis," said Sumroy. "So I realized that, if I could design a booster that was mighty small and mighty strong, one that kids could take with them everywhere, then they could always travel safely, no matter whose car they were in.
Read more at: https://www.israel21c.org/revolutionary-car-safey-seat-mifold-raises-1-5-million/
Please contact us to find out more and see how you may be able to add an investment like this or basket to your portfolio: info@bseedinvest.com