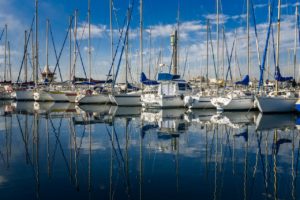 These are two of the seven companies in the first cohort of theDOCK, an Israeli innovation hub and accelerator that has set sail on a big blue ocean of opportunities for maritime innovation.
They were chosen from more than 60 enterprises vetted by theDOCK founders Hannan Carmeli and Nir Gartzman.
"There are many signs that the maritime sector globally is undergoing a technology-driven revolution and we believe that will grow," Carmeli tells ISRAEL21c.
Two particularly significant signs propelled the new venture.
"First, each maritime shipping company has started hiring a vice president of innovation. Even companies with a heritage of more than 100 years are realizing that their competition in the coming years is Amazon, not other shippers," says Carmeli.
"Second, Israel has many relevant technologies for this upcoming revolution: big data, AI, deep learning, cyber, drones. But we are missing in action in the maritime sector – with the exception of maybe 10 startups such as Freightos and Windward. That doesn't really move the needle. We founded theDOCK to make Israel the startup nation for that sector as well."
Read more at:  https://www.israel21c.org/maritime-startup-accelerator-puts-down-anchor-in-haifa/
Please contact us to find out more and see how you may be able to add an investment like this or basket to your portfolio: