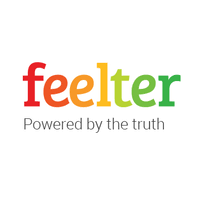 Feelter, a startup out of Israel that organizes social media and "curates product insights" for consumers online and led by an atypical tech entrepreneur who studied in the Far East, has closed a $2 million (m) funding round on a mission to become a major player and boldly "sell the truth".
The company, which was founded in 2014 by Smadar Landau, derives its base from philosophy. Living in the Far East for seven years – in China, India and Tibet – Ms Landau studied Buddhism. Following that stint overseas she made what is described as a "180-degrees turnaround" and went to study business administration back in Israel.
And, it's been a turnaround. An entrepreneur now with broad experience in business development, international marketing, fundraising and executive management of technology ventures, Landau returned to Israel and founded the School of Advertising (management studies) at Tel Aviv University. There she taught for four years and began consulting Israeli businesses on issues of marketing and advertising.
Read more at: https://www.forbes.com/sites/rogeraitken/2016/11/20/israeli-fintech-feelters-raises-2m-to-sell-retail-truth-scaling-up/#1438a31c18aa
Please contact us to find out more and see how you may be able to add an investment like this or basket to your portfolio: info@bseedinvest.com