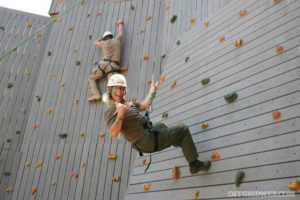 Even if you're not a mountain climber, you've probably heard of rappelling (a.k.a. abseiling) before. This technique allows you to descend from high places in a controlled manner, using a rope or cable with a friction device that slows your descent. Outside of the climbing world, you'll often see military and rescue personnel rappelling from ledges or helicopters. James Bond also does it on the silver screen.
Fortunately, a new device called the SkySaver emergency rescue backpack has made escaping a high-rise building easier than ever. This self-contained pack was designed by experts from the Israeli Army and rescue and emergency services, and it allows users to descend from a building in three simple steps:
Pull the red tab to reveal the harness, then put on the backpack and tighten the straps.
Clip the included carabiner to a pre-installed anchor point near a window or other opening. (SkySaver can recommend a certified professional to install the anchors for you.)
Descend out of the building facing the wall. The Controlled Descent Device (CDD) will lower you at a safe rate of 3 to 6 feet per second.
Read more at: https://www.offgridweb.com/gear/skysaver-emergency-rescue-backpack/
Please contact us to find out more and see how you may be able to add an investment like this or basket to your portfolio: info@bseedinvest.com